Saluna Water Taxis
Saluna Water Taxis are based out of Reduit Beach, Rodney Bay, and run local and long distance taxi services. The normally calm waters of Reduit Bay allow pickups and drop-off directly from the beach, in-front of the Bay Gardens Beach hotel. If waters are a little more choppy, or the guests would rather simply step down into the boat, Saluna have a dedicated mooring at the end of the Bay Gardens Beach hotel road, a 30 second walk away, next to the Happy Days bar.
Pigeon Island
One of the most enjoyable locations for for a water taxi is Pigeon Island, as it is St Lucia's first national parkand it the past was the hide-out of Jambe de Bois, a much-feared peg-leg pirate who preyed on Spanish galleons. It was also from here that Admiral Rodney set sail in 1782 to destroy the French fleet in one of the most decisive sea battles in European history.
Pigeon island features two white sandy beaches and numerous old building, some restored, including the Captain's Cellar, a re-creation of an 18th century English pub, and the delightful Jambe de Bois restaurant, as well as being ideal for nature walks with numerous marked trails, and the remains of the 18th century British fort situated on the further most peak, from which great views can be enjoyed.
The island's two white sand sand beaches are ideal for sunbathing, with sun loungers available for rent, and some great snorkeling just off the beaches - with snorkeling kit available for rent from Saluna Water Sports.
Gros Islet
Gros Islay has a number of very good restaurants, including The Golden Taste and Flavours Of The Grill, and every Friday night host 'The Jump-Up' street party.
What better way to arrive than a Saluna Water Taxi, which will also bring you back to Rodney Bay when you have finished you lunch or dinner, or danced your feet off at The Jump-Up?
Cruise Liners
For those visiting the island on a cruise liner Saluna Water Taxis provide a regular service directly from the cruise terminal at Pointe Seraphine to Rodney Bay beach, the best beach in St. Lucia, with plenty to see and do, as well as readily available beach chairs for rent, plus the famous Spinnaker's restaurant, and Bay Gardens Beach hotel.
Cruise Terminal Pickup pick-ups start from 9:30am running until Midday
Return from Rodney Bay based on individual Cruise Liner departure time requirements
To arrange a pickup please contact us directly, or just hop on the Saluna Water Taxis at the cruise terminal when you see them. Their yellow and black chequered livery makes them easy to spot!
Tel: +1 758-518-8236 (call or txt) contact@saluna-watersports.com
Marigot Bay
As a safe haven for yachts over the centuries, Marigot Bay has been the scene of many dramatic events, including in the 18th century being the scene of a famous sea battle between the French and British. In the 1950s, Walter Boudreau sailed into the bay on his yacht, 'Dubloon', and falling in love with Marigot decided to stay and build the first hotel - including the famous Hurricane Hole Bar. During the 60s the Marigot Yacht Haven, as it was known, was THE place to be seen, with film stars and heads of state coming to escape the stress and publicity of their lives - such was Marigot's reputation that after the first moon landing the astronauts were brought here to relax and unwind.
Ideal for lunch or dinner, Marigot Bay offers a selection of restaurants, from Chateau Mygo, to The Rum Cave within the Capella Hotel, to Doolittle's on the beach and a lovely coffee shop and bar within the marina.
Sauna Water Taxis will take you there, wait for you, and bring you back.
---
Water Taxi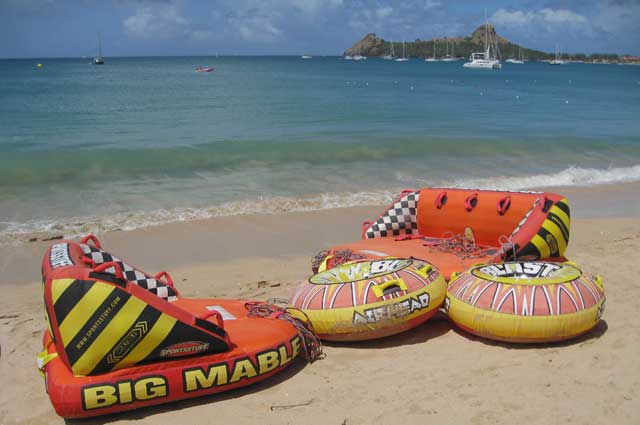 Water Sports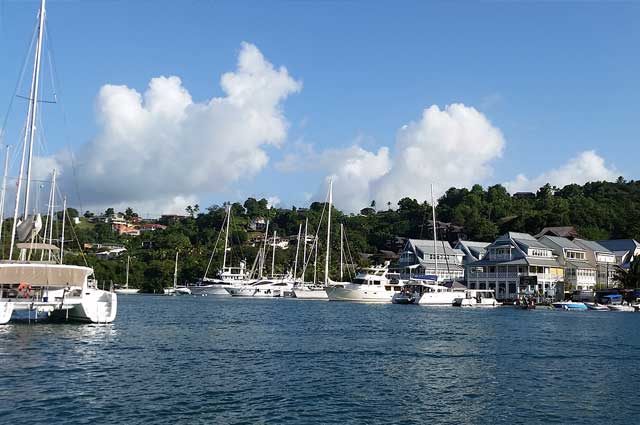 Boat Tours
---
Example Prices
All prices are return to/from Bay Gardens Beach Resort, and in USD.
Pigeon Island: $15
Rodney Bay Marina: $15
Gros Islet: $10
Snorkeling Kit hire: $5 per person
For other destinations, including Marigot Bay, Soufrière, The Pitons, Cruise Liner Pickups, etc., please ask for a quotation.
Tel: +1 758-518-8236 (call or txt) or e-mail contact@saluna-watersports.com
For any additional queries please call or e-mail.
Saluna - Water Taxi | Water Sports | Boat Tours
Tel: +1 758-518-8236 (call or txt)
contact@saluna-watersports.com
www.saluna-watersports.com
---